Actinic Keratosis in Garden City, Long Island
WHAT IS ACTINIC KERATOSIS?
Actinic Keratosis are commonly described as little red rough spots on sun exposed skin. They are the result of accumulated years of sun damage and are precursors to squamous cell carcinoma.
HOW CAN WE TELL IF YOU HAVE ACTINIC KERATOSIS?
Actinic keratosis may be solitary but there are often multiple keratoses. The appearance varies.
A flat or thickened papule, or plaque

White or yellow; scaly, warty, or horny surface

Skin coloured, red, or pigmented

Tender or asymptomatic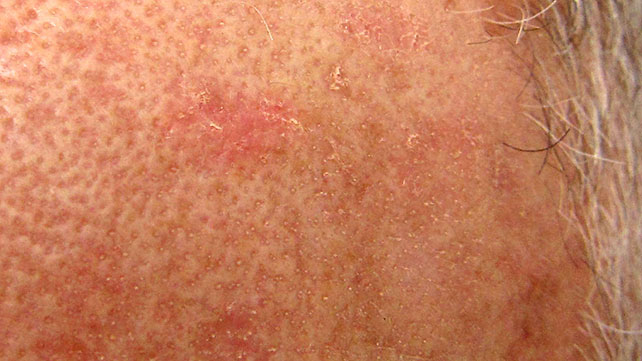 WHERE DO WE SEE

ACTINIC KERATOSIS?
Actinic keratoses are very common on sites repeatedly exposed to the sun, especially the backs of the hands and the face, most often affecting the ears, nose, cheeks, upper lip, vermilion of the lower lip, temples, forehead, and balding scalp. In severely chronically sun-damaged individuals, they may also be found on the upper trunk, upper and lower limbs, and dorsum of feet.
HOW DO WE TREAT

ACTINIC KERATOSIS?
Actinic keratoses are usually removed because they are unsightly or uncomfortable, or because of the risk that skin cancer may develop in them.
Treatment of an actinic keratosis requires removal of the defective skin cells. Epidermis regenerates from surrounding or follicularkeratinocytes that have escaped sun damage. Tender, thickened, ulcerated, or enlarging actinic keratoses should be treated aggressively. Asymptomatic flat keratoses may not require active treatment but should be kept under observation.
They can be treated with liquid nitrogen, photodynamic therapy and a topical prescription cream.