Skin Tags in Garden City, NY
Skin Tags in Garden City, Long Island
Applied Aesthetic offers advanced cosmetic dermatology services to men and women located in New York. Led by board-certified Nurse Practitioner, Natalie Sharp, Applied Aesthetic is proud to offer cutting-edge minimally invasive and non-surgical dermatology treatments to residents of Long Island, Queens and New York City.
WHAT ARE SKIN TAGS?
Skin Tags are usually harmless and painless. Skin tags develop in both men and women as they grow older. They are skin coloured or darker and range in size from 1mm to 5cm. They are most often found in the skin folds (neck, armpits, groin). They tend to be more numerous in obese persons and in those with type 2 diabetes mellitus. Skin tags are made up of loosely arranged collagen fibres and blood vessels surrounded by a thickened or thinned-out epidermis.
WHAT CAUSES

SKIN TAGS

?
It is not known what causes skin tags. However, the following factors may play a role:
Chaffing and irritation from skin rubbing together

High levels of growth factors, particularly during pregnancy or in acromegaly (gigantism)

Insulin resistance (syndrome X)

Human papillomavirus (wart virus)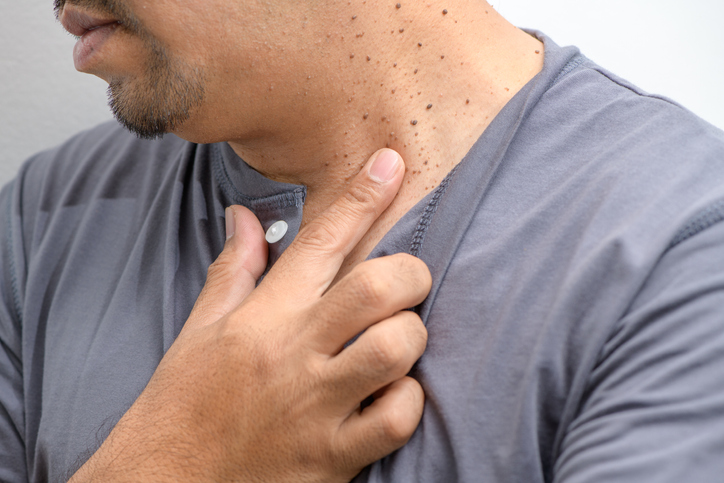 HOW DO WE TREAT
SKIN TAGS
?
Skin tags can be removed for cosmetic reasons by the following methods:
Cryotherapy (freezing)

Surgical excision (often with scissors)

Electrosurgery (diathermy)

Ligation (a suture is tied around the neck of the skin tag)
Applied Aesthetic is centrally located in the heart of Garden City, Long Island. Applied Aesthetic  is close to the LIRR (Long Island Rail Road), in a prime location bustling with cafes, restaurants and shopping centers.
For those who live in NYC, Queens, Long Island & traveling to the Hamptons, we have all of your cosmetic dermatology treatments to do on your way!