Powder Brows in Garden City, NY
Applied Aesthetic offers advanced cosmetic dermatology services to men and women located in New York. Led by board-certified Nurse Practitioner, Natalie Sharp, Applied Aesthetic is proud to offer cutting-edge minimally invasive and non-surgical dermatology treatments to residents of Long Island, Queens and New York City.
WHAT ARE POWDER BROWS?
Powder Brows are the newest and trendiest "makeup-look" technique recommended for individuals with oily skin (traditional microblading works better on normal and dry skin individuals) The process is very similar to traditional Microblading except that instead of drawing on individual hairstrokes, we use a manual hand tool with pin dot application and specialized "powder effect" needles to create the "makeup-look."
WHAT IS THE DIFFERENCE BETWEEN POWDER BROWS AND MICROBLADING?
Microblading is performed by hand, and this may result in inconsistent results. The pigments for powder brows are applied with a special machine, ensuring a greater level of precision and consistency.
WHAT IS THE PROCEDURE FOR POWDER BROWS?
The brow area is cleaned to remove dirt, oils, skin care products, and make up. A topical numbing product is applied to help you feel relaxed during the treatment. We discuss recommendations for brow shape and pigment color to find a style that appeals to you. We also explain the after-care instructions. Once you find a shape and color that you like, apply the powder brows. For the first application of your powder brows, the treatment is performed over two appointments. The second appointment is scheduled five to 12 weeks after the first appointment. If your second appointment occurs after 12 weeks, you may need a more intensive powder brow treatment.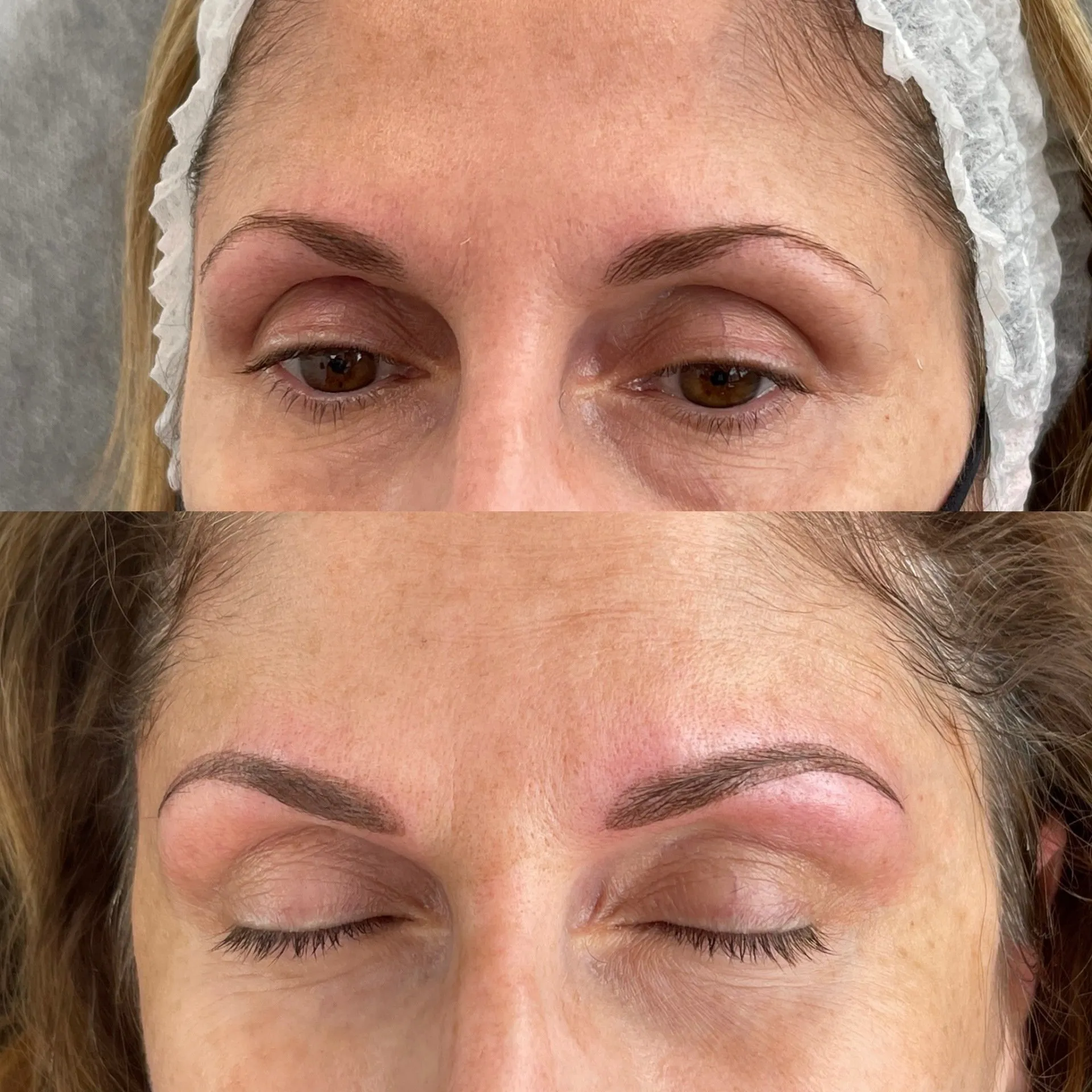 WHAT IS RECOVERY LIKE AFTER POWDER BROWS?
After your powder brows are applied, the results may not look as thick as expected. This is due to the unique bone structure and hair growth pattern of your natural brows. You may need to apply some makeup to achieve a more dramatic look to your brows. You will need to avoid certain activities for the first one to two weeks, such as swimming, excessive sweating, steam baths, saunas, and facials. We also recommend that you refrain from using tanning beds for the first two weeks. We recommend that you have touchup treatments every 10 to 15 months, or when you notice that the pigment has faded.
WHO IS THE BEST CANDIDATE FOR POWDER BROWS?
Ideal for oily and all skin types
Ideal choice for those with very sparse brows
Can be both soft or bold based on preference
Painless procedure that heals quicker than microblading
Best for those who want to re-create airbrushed look of the makeup they normally wear
HOW LONG DO POWDER BROWS LAST?
In general, powder brows last one to three years. This does vary, though, by individual person because certain factors affect how long it takes for the pigment to fade, such as iron deficiency, pigment color, and skin type. Please note that lighter pigments tend to fade faster than darker pigments. Sun exposure also causes powder brow pigments to fade faster. People with oily skin tend to need touchup treatments more often than other skin types.
POWDER BROWS FAQs
Does getting powder brows hurt?
A topical numbing agent is applied prior to and during the powder brow treatment. Each person has a different comfort level for this type of procedure. If you do experience discomfort during the treatment, let us know. We can numb the area more to help you feel more relaxed.
What type of pigment is used for pigment brows?
Powder brows are applied with pigments that contain carbon or iron oxide. These ingredients are considered safe to use and fade gradually. If you have a history of any type of adverse reaction to these or other ingredients used for permanent cosmetics, please let us know at the time of the consultation.
How do I pick the right pigment color for my powder brows?
Most people decide to match the pigment with their natural hair color, but you can choose any color. We provide guidance to help you find a pigment for your powder brows that will accent your facial features and style.
How do I know which brow technique is best for me?
Microblading and powder brows are two of the most popular brow enhancement treatments. In some cases, the brow shape, hair type, and other characteristics determine the best technique for you. Microblading tends to produce a more natural appearance to the brows, whereas, powder brows tend to create a more dramatic look. We help you determine the best technique during your consultation.
How do I know the best shape for my powder brows?
We help you determine the best brow shape for your other features. Prior to the treatment, we draw a shape on to let you see what to expect from your powder brows. The shape can be modified prior to applying the powder brows to ensure that you are comfortable with the shape.
Do I have to shave my eyebrows before getting powder brows?
You do not need to shave your brows prior to getting powder brows. In fact, having your natural brows enhances the final results of the treatment. Although powder brows are great for most people, the technique is especially beneficial for over-plucked brows, light brows, and thin brows. You should not shave or pluck your brows prior to the treatment. Once the treatment is complete, we can remove any stray hairs.
Can powder brows be used to correct or touch up microblading or brow tattoos?
It is possible to touch up microblading and brow tattoos with powder brows, but this varies greatly by person. The best option is to schedule a consultation to find out if powder brows can be used to touch up your microblading or brow tattoos.
Are powder brows safe for everyone?
In general, powder brows are very safe, but there are some situations in which powder brows may not be the best option. This includes:
Women who are pregnant or nursing

People under the age of 18 years old

Certain types of medical conditions

Certain medications, such as Accutane, currently or within the past 12 months

Some skin conditions, such as rosacea

Currently taking blood thinning medications

Fresh tan or sunburn on the face

Current or recent chemotherapy

Use of retinol products on the face within the last two months
How can I prolong the results of my powder brows?
There are steps to take before having your powder brow treatment that may prolong the results. Bleeding during the treatment may affect how well the pigment deposits into your skin. We have pre-treatment instructions that you should follow to minimize bleeding during the procedure. If you smoke, this may cause your powder brows to fade faster than non-smokers. We recommend that you quit or refrain from smoking for at least two weeks before the procedure. Pigments are more quickly broken down by the body if you have an iron deficiency. You may want to discuss the treatment with your doctor to determine if an iron supplement is recommended. After the treatment, you may be able to prolong the results by avoiding sunlight. Please be advised that lighter pigments tend to fade more quickly than darker pigments.
How long does it take to get powder brows?
On average, the first appointment for powder brows takes approximately 2 1/2 hours, although this does vary by individual. Touchup treatments tend to be shorter, but it depends on how quickly the pigment fades.
Do permanent cosmetics, such as powder brows, look different as I age?
Pigments used for powder brows does fade gradually, and touchup treatments can help maintain the original shape and color. If your natural brow shape or color changes due to aging, we can make slight adjustments to the shape and pigment for your touchup treatments.
Applied Aesthetic is centrally located in the heart of Garden City, Long Island. Applied Aesthetic  is close to the LIRR (Long Island Rail Road), in a prime location bustling with cafes, restaurants and shopping centers.
For those who live in NYC, Queens, Long Island & traveling to the Hamptons, we have all of your cosmetic dermatology treatments to do on your way!