Botox in Garden City, Long Island
Applied Aesthetic offers advanced cosmetic dermatology services to men and women located in New York. Led by board-certified Nurse Practitioner, Natalie Sharp, Applied Aesthetic is proud to offer cutting-edge minimally invasive and non-surgical dermatology treatments to residents of Long Island, Queens and New York City.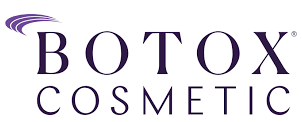 WHAT IS BOTOX?
The Botox treatment at Applied Aesthetic is a safe and effective way to remove fine lines and wrinkles, providing your face a naturally youthful appearance. This anti-aging solution is perfect for men and women who are wanting to smooth out their skin or who are wanting to have the best wrinkle relaxing treatments.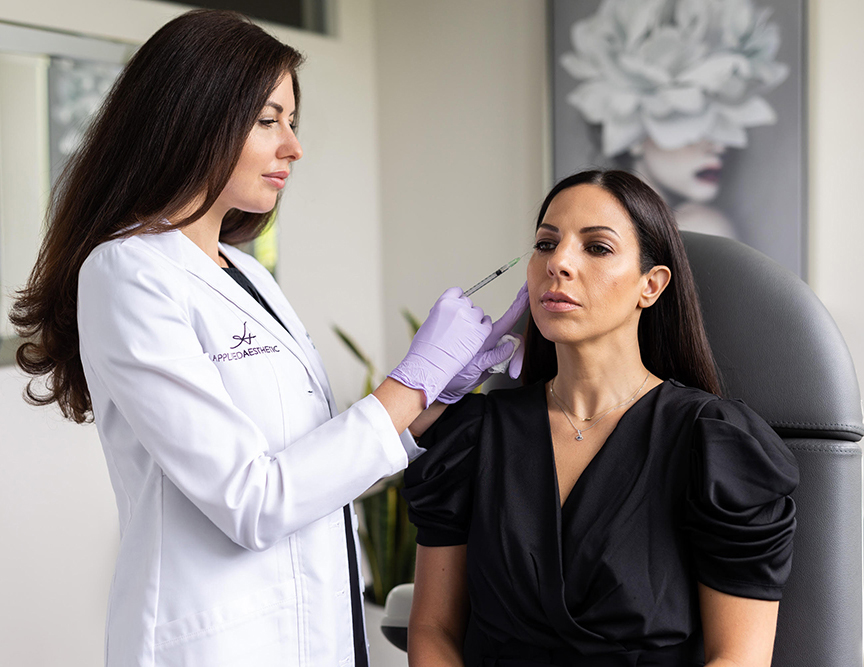 WHAT IS BOTOX USED FOR?
While Botox is primarily used to remove wrinkles on the face, it also has additional applications, such as under the arms to help reduce excessive sweating. A treatment today can do wonders for your aesthetic future!
HOW DOES BOTOX
WORK?

A combination of factors can cause facial lines. It's not just about the cellular changes that may occur, or reduction of collagen, or damage caused by free radicals from the sun and the environment.

Repeated muscle contractions from frowning, squinting, or raising eyebrows cause skin to furrow and fold, gradually resulting in the formation of facial lines. BOTOX® works beneath the surface and temporarily reduces the underlying muscle activity that causes moderate to severe frown lines, crow's feet and forehead lines in adults – to help them look better.
WILL MY FACE LOOK OVERDONE OR UNNATURAL?
BOTOX® is a technique-sensitive treatment. You can trust BOTOX® Cosmetic to deliver subtle results when you are treated by someone who is licensed, trained, and a medical expert in facial anatomy. So you'll look like yourself—only with less noticeable lines. No one should be able to tell you've had anything done.
IS BOTOX
ONLY FOR WOMEN?

Not at all! Many men make BOTOX® Cosmetic part of what they do to care for their appearance. The number of men choosing treatments like BOTOX® Cosmetic has risen fast – in the past three years alone, men have received over one million botulinum toxin treatments. When surveyed, the majority of men say they want to look good and they're bothered by the changes they see in the mirror. 80% would choose to treat their crow's feet first, while 74% would prioritize their forehead lines, and 60% would most like to treat their frown lines.†
†

Results from a survey of men to determine most likely treatment areas and top areas of concern for injectable-naive,

aesthetically-oriented men aged 30 to 65 years (N=600). Proportion of respondents selecting that area as highest priority to treat using the Maximum Difference (MaxDiff) scaling system.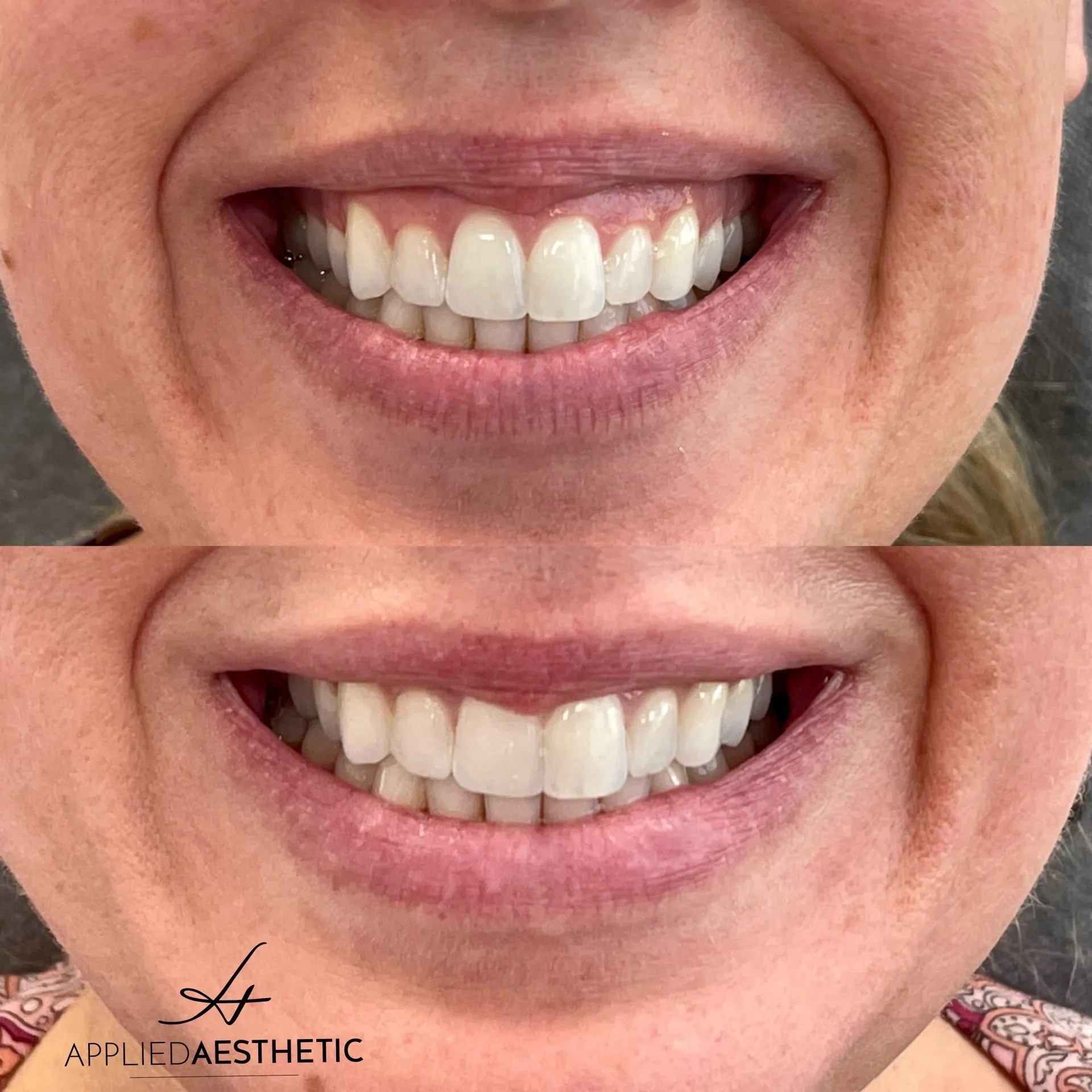 HOW MUCH TIME DOES BOTOX
 

COSMETIC TREATMENT TAKE? WILL IT HURT?

Natalie will discuss your treatment goals and perform a facial analysis to determine the appropriate treatment areas for you. Some patients report that being injected with BOTOX® feels like a pinch. Your specialist may use ice to numb the treatment area. Or, if you are concerned about discomfort, your specialist may apply a topical numbing cream before administering your treatment. Treatment requires minimal downtime. So you can return to your daily routine immediately after you leave your specialist's office.
WILL I SEE RESULTS QUICKLY?
 

HOW LONG DOES BOTOX

LAST?

You may begin to notice results within 24 to 48 hours, with full results in 30 days, with results lasting up to four months for moderate to severe frown lines. Remember that results vary from patient to patient though, so Natalie will plan your next appointment based on your results and aesthetic goals.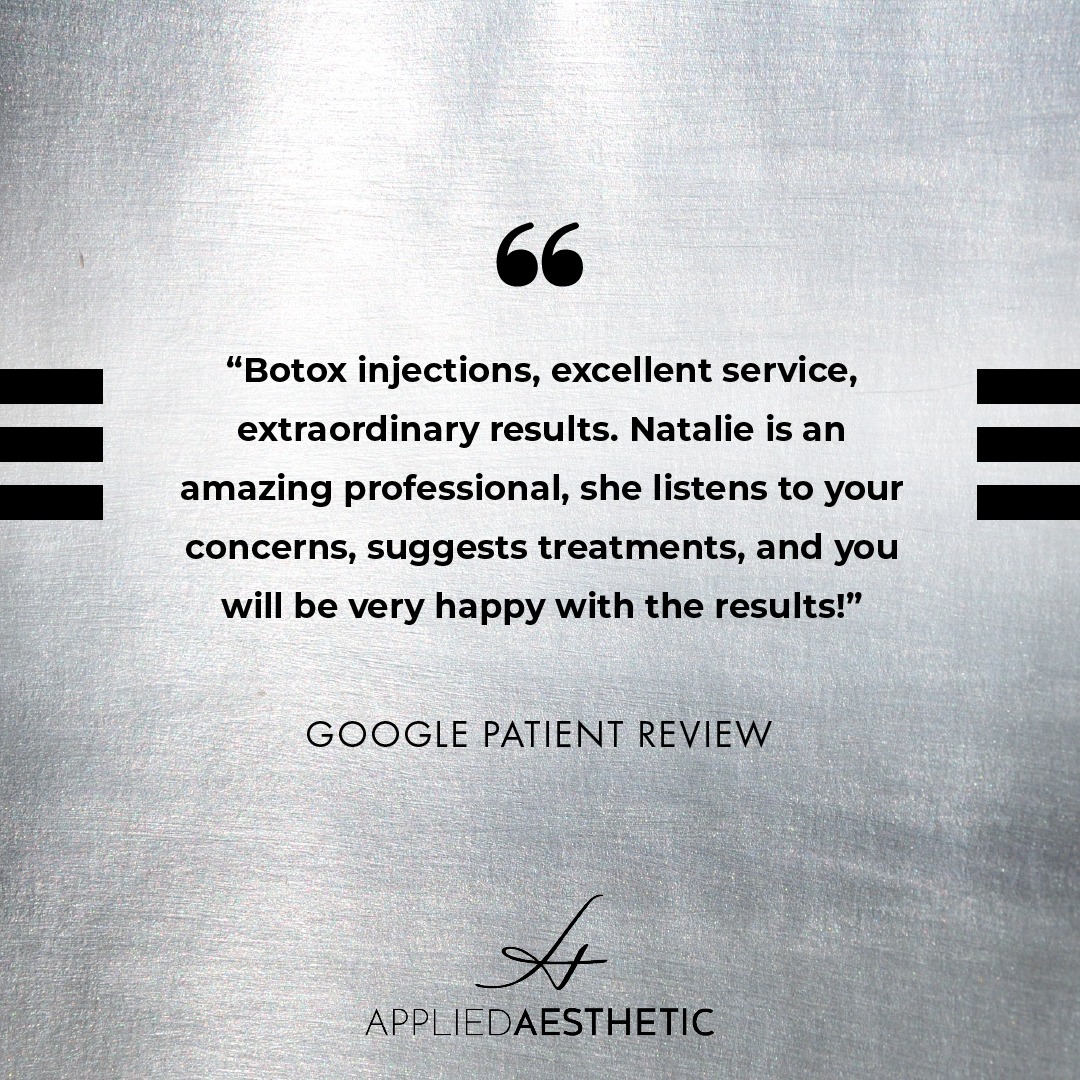 WHAT PRODUCTS ARE AVAILABLE?
When you make an appointment at Applied Aesthetic for Botox, we make sure to provide a customized plan that is specifically tailored for your facial features. We only use the best Botox products on the market, including:
Botox Cosmetic
Dysport
Xeomin
Jeuveau
WHAT CAN BOTOX DO FOR ME?
Smooth wrinkles on the forehead lines, between eyebrows and crow's feet.
Botox can also be used to create the illusion of fuller lips or "lip flip", lift the eyebrows, correct a gummy smile, smooth out the lines around the mouth (smoker's lines) and slim the jawline(Masseter Muscle Injection). Botox can also be used to treat hyperhidrosis (excessive sweating).
Applied Aesthetic is centrally located in the heart of Garden City, Long Island. Applied Aesthetic  is close to the LIRR (Long Island Rail Road), in a prime location bustling with cafes, restaurants and shopping centers.
For those who live in NYC, Queens, Long Island & traveling to the Hamptons, we have all of your cosmetic dermatology treatments to do on your way!