Sclerotherapy in Garden City, NY
Sclerotherapy in Garden City, Long Island
Applied Aesthetic offers advanced cosmetic dermatology services to men and women located in New York. Led by board-certified Nurse Practitioner, Natalie Sharp, Applied Aesthetic is proud to offer cutting-edge minimally invasive and non-surgical dermatology treatments to residents of Long Island, Queens and New York City.
Have you noticed discolored veins on your legs or other areas of your body lately? Varicose or Spider Veins are common, and become more noticeable and prevalent as we get older. For many, they appear unsightly and can make an individual self conscious. The good news is there is a quick and effective treatment for varicose veins, Sclerotherapy.
WHAT IS SCLEROTHERAPY?
Sclerotherapy works by injecting a sclerosing solution like Asclera (Polidocanol injection), into the vein causing it to fade from the surface of the skin by collapsing the cell wall.
The Sclerotherapy treatment at Applied Aesthetic will show positive results for most patients. It is estimated that between 50 and 80% of injected veins may be eliminated with each session.
WHAT CAUSES SPIDER AND RETICULAR VEINS?
Some factors that may increase your risk of developing them:
Heredity. If other family members had varicose veins, there's a greater chance you will too.
Age. The risk of varicose veins increases with age. Aging causes wear and tear on the valves in your veins that help regulate blood flow. Eventually, this causes the valves to allow some blood to flow back into your veins where it collects instead of flowing up to your heart.
Gender. Women are more likely to develop the condition. Changes in hormones due to puberty, pregnancy, menopause, or taking birth control pills may increase a woman's risk of developing varicose veins.
Pregnancy. During pregnancy, the volume of blood in your body increases. This change supports the growing fetus but also can produce an unfortunate side effect—enlarged veins in your legs. Hormonal changes during pregnancy may also play a role. However, there is minimal benefit in treating uncomplicated spider veins and reticular veins in the lower extremity during pregnancy and lower extremity varicosities that develop during pregnancy as they may spontaneously regress postpartum.
Extra weight or obesity. Carrying extra weight can put additional pressure on the veins. Prolonged standing or sitting may also hinder the healthy flow of blood.
Contact us today to book an appointment or consultation and we will be able to give you the expert skincare treatment that is best for your needs.
Schlerotherapy Treatment
Frequently Asked Questions
What is the After Care for this Treatment?
Wear compression stockings or support hose continuously for up to 3 days and 2 to 3 weeks after treatment during the daytime
Walk 15 to 20 minutes right after the procedure and every day for the next few days
Avoid heavy exercise, sunbathing, long plane flights, and hot baths or saunas for 2 to 3 days
What is sclerotherapy?
Sclerotherapy is a minimally invasive procedure administered by your healthcare provider to treat uncomplicated spider veins and uncomplicated reticular veins. The treatment involves the injection of a solution into affected veins.
What are spider veins?
Spider veins are very small, fine, red or blue veins that are less than 1 mm in diameter. They lie closer to the surface of the skin than varicose veins and may resemble a thin red line, tree branches, or spider patterns. Spider veins can be found on the legs and may cover a small or large area.
What are small varicose veins?
Small varicose veins, also known as reticular veins, are small blood vessels that measure between 1 to 3 mm in diameter and are also known as feeder veins. Small varicose veins can enlarge as a result of increased pressure in the vein or from weakened vein valves. You may have only small varicose veins or both small varicose and spider veins at the same time.
How often do I need treatment to see results?
The number and frequency of treatments depends on the size of the vessels and their location. Ask your provider about an individualized treatment approach that is right for you.
How does Asclera® work?
Asclera® is a sclerosing agent that is injected into the vein. It works by damaging the endothelium, the inside lining of blood vessels. This causes blood platelets and cellular debris to attach to the lining of the vessels. Eventually, cellular debris and platelets cause the blood vessel to clot. Over time, the clotted vein will be replaced with tissue.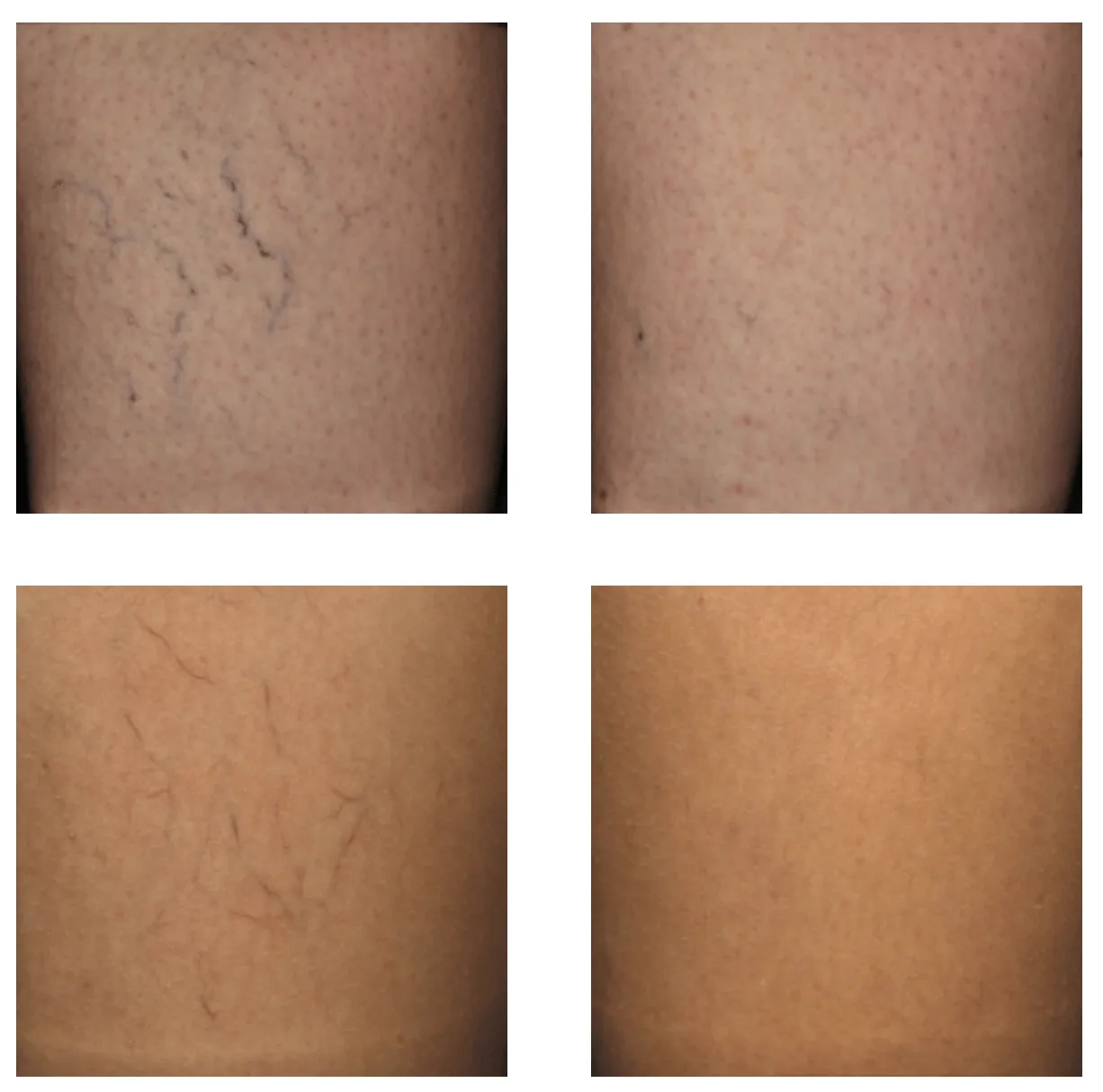 How long is each Asclera® session?
A typical session lasts 15 to 45 minutes. Generally, 1 to 3 injections may be necessary to treat a given spider or reticular vein. Repeat treatment sessions may be necessary. Any additional treatment sessions are usually separated by 1 to 2 weeks.
How satisfied are patients who use Asclera®?
88% of clinical study patients were satisfied or very satisfied with their Asclera® treatment after 12 weeks.2,3
Applied Aesthetic is centrally located in the heart of Garden City, Long Island. Applied Aesthetic  is close to the LIRR (Long Island Rail Road), in a prime location bustling with cafes, restaurants and shopping centers.
For those who live in NYC, Queens, Long Island & traveling to the Hamptons, we have all of your cosmetic dermatology treatments to do on your way!