Rosacea Treatment in Garden City, NY
Rosacea in Garden City, Long Island
Applied Aesthetic offers advanced cosmetic dermatology services to men and women located in New York. Led by board-certified Nurse Practitioner, Natalie Sharp, Applied Aesthetic is proud to offer cutting-edge minimally invasive and non-surgical dermatology treatments to residents of Long Island, Queens and New York City.
WHAT IS ROSACEA?
Rosacea is a chronic rash involving the central part of the face, typically cheeks and nose. It is characterized by its red color and often involves visible blood vessels as well as acne. It is transient and recurrent. Triggers include alcohol, spicy foods, stress, cold weather, and sun exposure. It is most common in individuals with fair skin and blue eyes.
WHAT CAUSES ROSACEA?
There are several theories regarding the cause of rosacea, including genetic, environmental, vascular and inflammatory factors. Skin damage due to chronic exposure to ultraviolet radiation plays a part.
The skin's innate immune response appears to be important, as high concentrations of antimicrobial peptides such as cathelicidins have been observed in rosacea.
Cathelicidins are part of the skin's normal defence against microbes.

Cathelicidins promote infiltration of neutrophils in the dermis and dilation of blood vessels.

Neutrophils release nitric oxide also promoting vasodilation.

Fluid leaks out of these dilated blood vessels causing swelling (oedema); and proinflammatory cytokines leak into the dermis, increasing the inflammation.
In most cases, no investigations are required and the diagnosis of rosacea is made clinically. Occasionally a skin biopsy is performed, which shows chronic inflammation and vascular changes.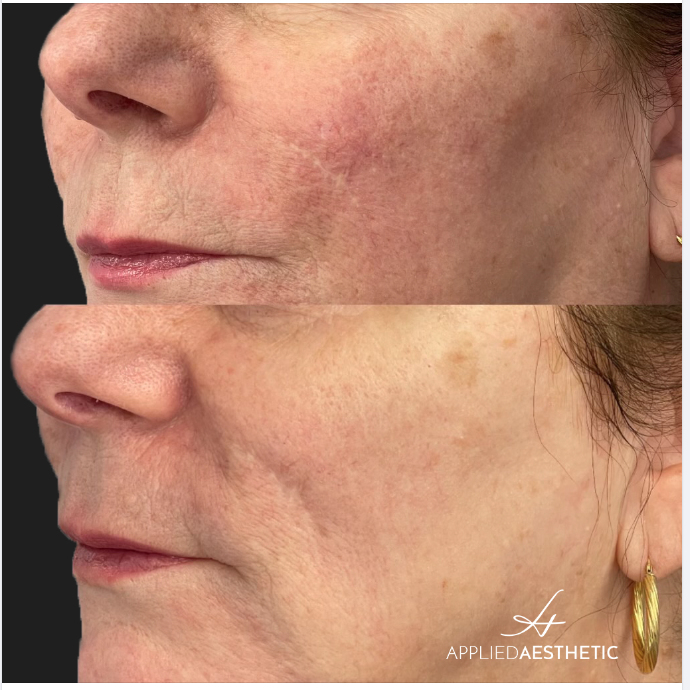 An amazing difference after just one treatment of BBL (Broad Band Laser)!
This patient visited Applied Aesthetic because she was having issues with her Rosacea. Natalie Sharp, FNP-BC, recommended a BBL treatment in order to treat the skin condition. The laser targets energy deep into the skin and helps break up unevenness, while then promoting collagen stimulation. You can see the difference this laser can make.
HOW DO WE TREAT
ROSACEA?
Some treatments for Rosacea:
Where possible, reduce factors causing facial flushing.

Avoid oil-based facial creams. Use water-based make-up.

Never apply a topical steroid to the rosacea as although short-term improvement may be observed (vasoconstriction and anti-inflammatory effect), it makes the rosacea more severe over the next weeks (possibly by increased production of nitric oxide).

Protect yourself from the sun. Use light oil-free facial sunscreens.

Keep your face cool to reduce flushing: minimise your exposure to hot or spicy foods, alcohol, hot showers and baths and warm rooms.

Some people find they can reduce facial redness for short periods by holding an ice block in their mouth, between the gum and cheek
Applied Aesthetic is centrally located in the heart of Garden City, Long Island. Applied Aesthetic  is close to the LIRR (Long Island Rail Road), in a prime location bustling with cafes, restaurants and shopping centers.
For those who live in NYC, Queens, Long Island & traveling to the Hamptons, we have all of your cosmetic dermatology treatments to do on your way!